This is the cup that started the reuse revolution. A drafted vessel and tapered rim for easy pour, it's lovely to drink from lid off, or on.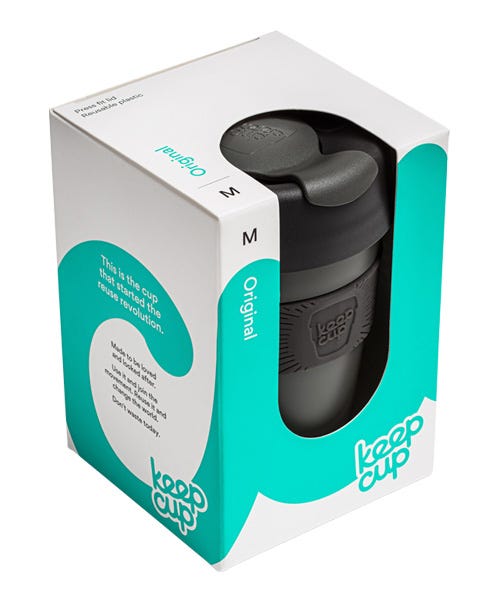 100% FSC certified board using soy-based inks. Our packaging tells the story of KeepCup's reuse revolution to inspire our customers to reduce and reuse.
Benefits
I

n addition to telling the story of our products and their benefits, we design packaging that walks the line - avoiding breakage and protecting products in transit while minimising material to reduce waste.

Where appropriate, we work with customers to ship large orders bulk packed and semi assembled, without retail packaging, to reduce waste.



Carton packaging material
Our recycled cardboard cartons are designed to maximise the number of product configurations, and are made in Australia and the UK to service local markets. All packaging materials are reused within our supply chain and packing processes. The cartons themselves are used first to store and ship components to us from our manufacturers, and are then reused in our assembly locations to ship products to our customers.
Part manufacture
Australia and the United Kingdom

Manufacture waste
100% of all retail and carton packaging reject stock and manufacture offcuts are collected and recycled.

Assembly waste
When packing orders, we reuse stock cartons and utiliise cardboard waste as space filler. Any damaged cartons, reject retail boxes or unused packaging are commercially recycled.

End of life
All retail packaging and cardboard cartons are readily recycled via household waste service collections worldwide. Please place in your recycle bin for collection.